UltrOZ Elite Keeps the Horses of Double H Farm in Top Competitive Form

دنك يا حلو ليلوحك القناص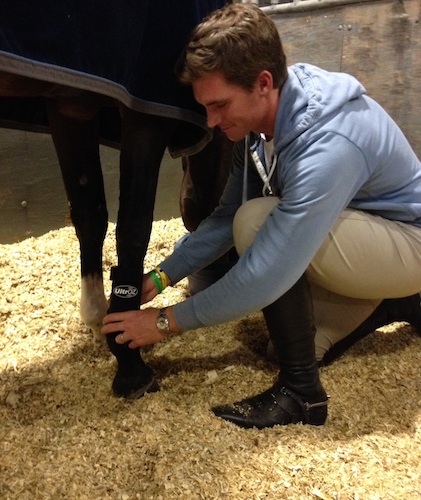 Double H Farm's Quentin Judge fits UltrOz Elite on his horse.
Brian Collins, Equine Division Manager for UltrOZ stated, "UltrOZ is excited for the opportunity to work with Quentin, Daniel, and the team at Double H Farm. It is a tremendous responsibility to help care for world-class equine athletes. By providing our therapy, we aim to keep those athletes at the top of their game and build upon their success. We are proud to be associated with competitors who are known for their hard work, dedication, and complete attention to the horse's soundness and health."
UltrOZ Elite delivers the benefits of therapeutic ultrasound without the risk of injury prevalent with traditional ultrasound units. This is because UltrOZ Elite delivers continuous wave ultrasound (known as LITUS) at a safe, preset frequency and power, which makes it impossible to over treat or cause burning when used properly. As an added feature, the unit is designed with an internal safety shut-off to avoid any thermal impact to your horse. The UltrOZ Elite weighs less than 3 ounces and fits into comfortable, specially-designed wraps. The unit can easily be applied by an owner, trainer or groom.
The UltrOZ Elite is a clinically proven modality that uses ultrasonic waves at a specific ultrasonic frequency, intensity and treatment duration to stimulate healing in tissue. The system is clinically proven to reduce swelling & inflammation, increase joint flexibility, reduce pain and irritation, and increase healing response in tendon, muscle, & bone.
The UltrOZ Elite provides sustained ultrasonic energy which penetrates and saturates tissue, enhancing the body's ability to heal by increased cellular temperature, increased blood circulation, increased cross-tissue nutrient transfer, and increased local cell activity through mechanical wave interaction.
Other top competitors who use UltrOZ Elite in different disciplines of equestrian sport around the world include: McLain Ward, Charlie Jayne, Margie Engle, Tim McQuay, Steffen Peters, Derek Braun, Sterling Graburn, and Daniel Zetterman.
For more information on UltrOZ, please visit www.ultroz.com.
About Double H Farm
Based in Ridgefield, CT, and Wellington, FL, Double H Farm focuses on show jumpers and hunters that are born to compete at the top level. With riders Quentin Judge, and Cayce Harrison, the horses of Double H Farm show at the best competitions in North America and the world. Double H Farm has seven amazing stallions available for breeding, and there is always a selection of high quality hunters and jumpers available for purchase. For more information, please visit www.doublehfarm.org, visit their Facebook page, and follow them on Twitter at @Double_H_Farm.